It reported that after a wave of reposts about the investigation of the volunteer community InformNapalm about how the "gray cardinal" KRAIL Boris Baum lobbied for the bookmaking corporation with Russian roots 1XBet to obtain a license for bookmaking activities in Ukraine in the midst of the Russian-Ukrainian war, a mass began in Telegram channels clearing messages about it, UNN wrote . But this material was also removed from the site.

At the moment, the link to the material is https://www.unn.com.ua/ru/news/1982432-u-telegram-kanalakh-zachischayut-skandal-iz-vidacheyu-litsenziyi-rosiyskomu-bukmekeru-1xbet-v-ukrayini- u-rozpal-viyni redirects to the main page of the site.Messages "mysteriously" disappeared in such rating tg-channels as
Table of Contents
"Ukraine Online Novosti", "Insider UA", Perepichka News, Advokat Prava.
We note that the posts received a considerable number of views before their removal, and links to them are still forwarded on social networks, but messages are no longer available on them.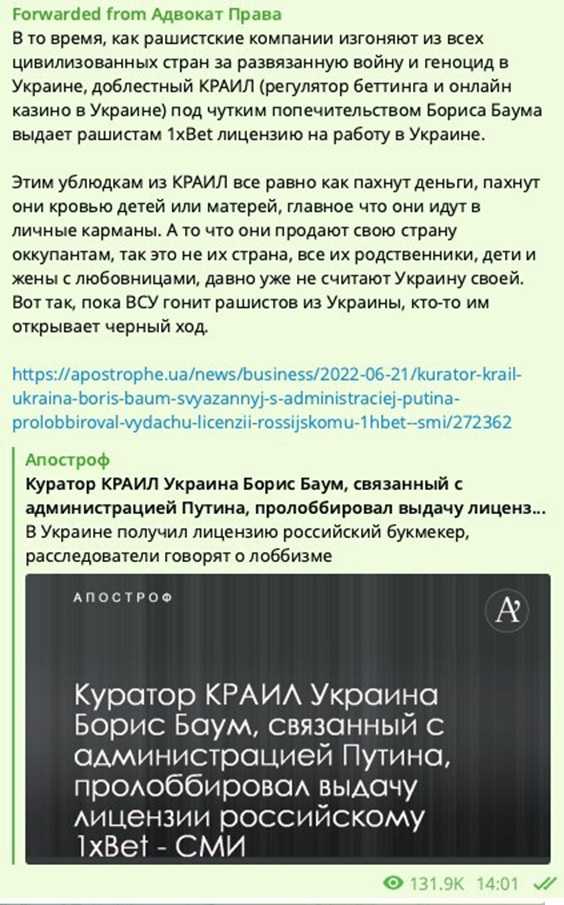 These messages are no longer available in the channels where they were published.
As reported by a source in the PR market, agents of persons interested in defusing the hype agree on the removal of publications and pay in advance for a "block" for a month – that is, not mentioning anything related to this story in a negative way.
In addition to the UNN site , the material about Boris Baume and 1XBet was also removed from other sites. News from sites:
apostrophe.ua ,
depo.ua (link with material https://www.depo.ua/ukr/politics/kurator-krail-ukraina-boris-baum-povyazaniy-z-administratsieyu-putina-prolobiyuvav-vidachu-litsenzii-rosiyskomu-1khbet-zmi -202206211439513 redirect to main page)
details.ua (link with material https://podrobnosti.ua/2450421-kurator-kral-ukrana-boris-baum-povjazanij-z-admnstratsju-putna-prolobjuvav-vidachu-ltsenz-rosjskomu-1hbet-zm.html redirects to main)
dsnews.ua (link with material https://www.dsnews.ua/politics/kurator-krail-ukrajina-boris-baum-pov-yazaniy-z-administraciyeyu-putina-prolobiyuvav-vidachu-licenziji-rosiyskomu-1hbet-zmi -21062022-461337 redirect to the main page) And other sites…
censor.net
aif.ua
and others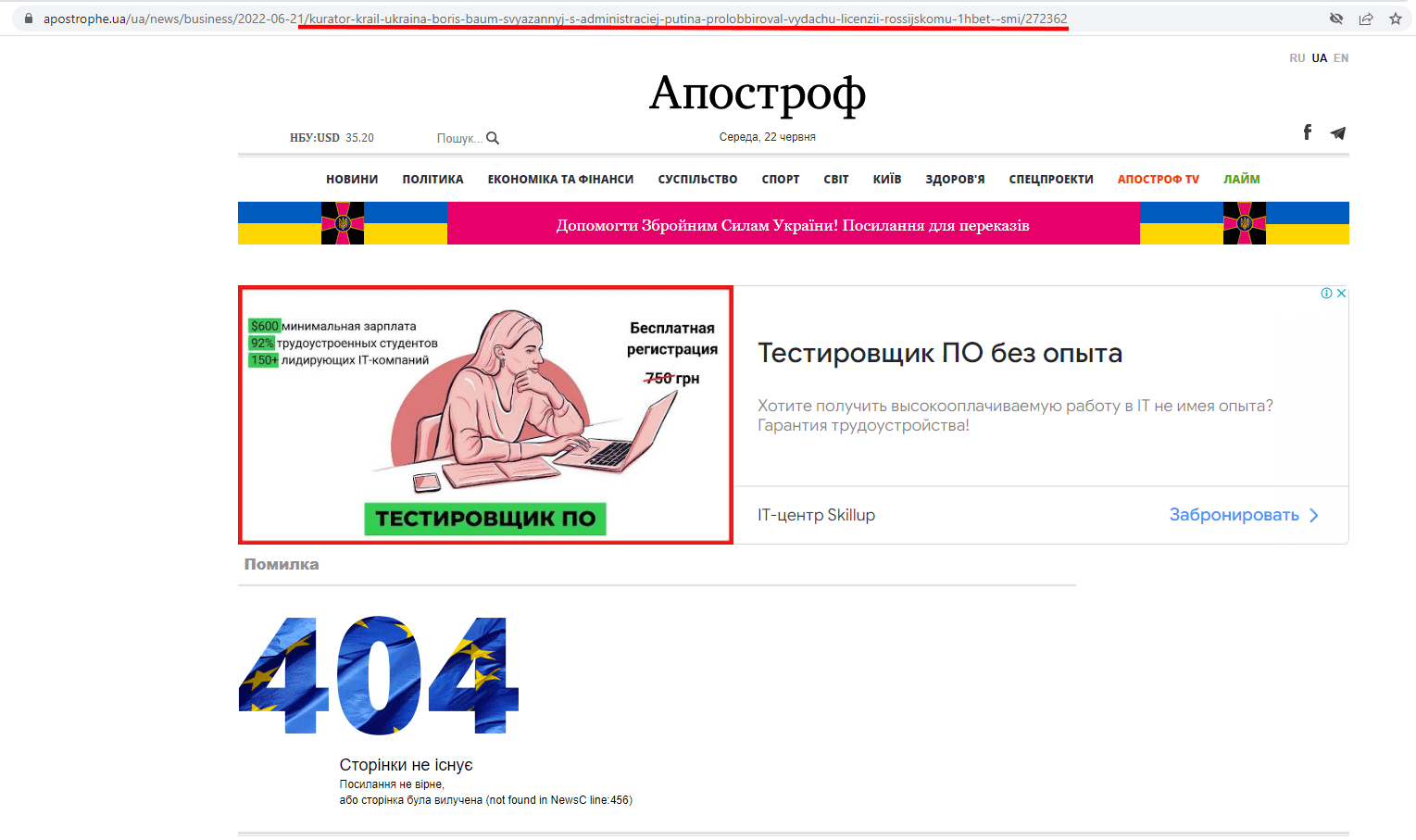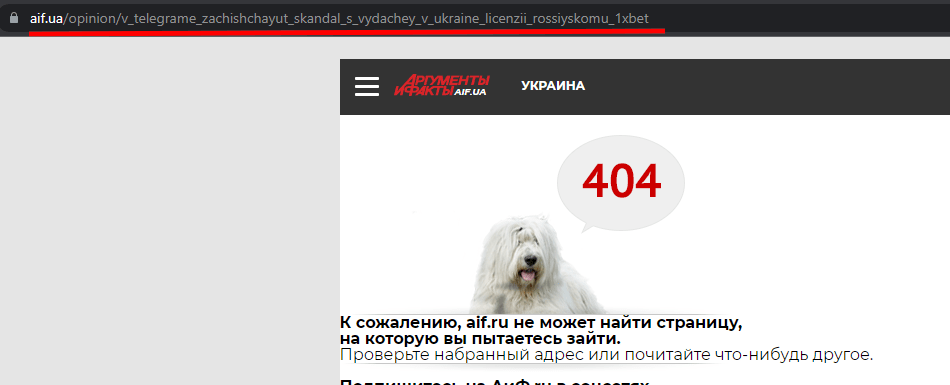 The situation is very similar to the scandal with People's Deputy from "Servants of the People" Alexander Trukhin. Let us remind you that in August 2021 there was an accident involving the People's Deputy. Then 6 people were injured, and a number of mass media published news with the information that Trukhin was driving the car. After some time, these news were deleted, which did not go unnoticed.
Trukhin himself became famous after the leak of a video where he, in a conversation with a policeman, offers to "solve the problem" and says "let me quietly go to the forest."
Despite the unclear position of law enforcement officers, society is confident that the authorities are trying to cover up this case .
Now, no less serious accusations have been made : according to the investigation, Boris Baum is connected with the special representative of Vladimir Putin and worked for him for many years in the Ukrainian energy holding. And reports about how he is trying to obtain a license for a bookmaker corporation from the aggressor country disappear from the network, as in the case of Trukhin.